Blog Rebase
---
Table of Contents
Introduction
After an extended hiatus, I've decided it's long past time I breathed some new life into this blog. My job and responsibilities have changed a bit, as have my interests, but PowerShell is still at the front of both!
Rebase!
Visual Updates
I was never quite happy with the visual style of my blog layout…while the Minimal Mistakes theme was a very clean and…well, minimal starting point, I never got it to a point where I felt confident in its polish.
To that end, the blog has been reworked to use the Hydejacked theme.
Hydejacked has a few less bells and whistles, but it presents a much cleaner and more polished look to my eyes. I also took some time to build a decent-looking sidebar image this time instead of using a generic image with no personality.
Compare the current look of this article to an older screenshot of the previous theme: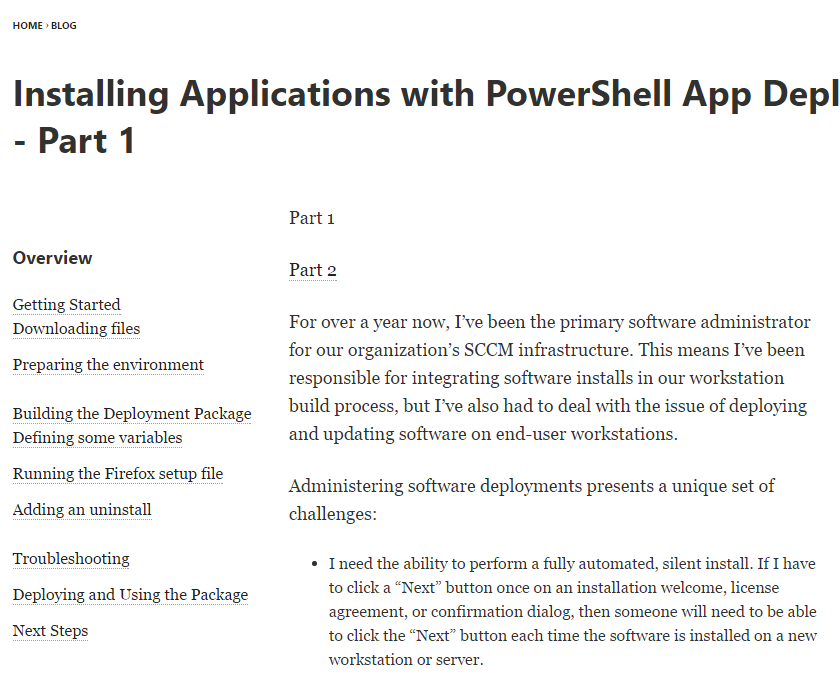 The look still isn't perfect, but I like it a lot better!
Because of the nature of how Jekyll works, a theme is much more than a couple of config files - it's an entire framework for how the compiled Web pages should look. Switching themes isn't an intuitive process. In fact, I found that the easiest way was to create an entirely new Git repository with the new theme as a base, then copy my content from the original repo into the new one. Several header items needed to be adjusted, and the Table of Contents format also changed a bit.
It took a couple of hours, but I wouldn't say it was a difficult process so much as a tedious one. Fortunately, I hadn't yet written much to migrate!
Process Updates
The biggest reason I haven't been writing more is that my process has just been tedious. Octopress is a fiddly tool, and I was always troubleshooting issues with version dependencies, working with Bundler to figure out which Octopress version I needed, or chasing my tail in some other issue. I never found myself using its draft or unpublish capability, either.
Instead, I've decided to abandon Octopress and use pure Jekyll for my blog-writing. Since Jekyll can serve pages locally, I have no real need to put pages in "draft" mode. Should I ever need to work on posts long-term where I absolutely need to push to GitHub, I can create a separate branch for the draft.
My writing process is now simple and effective:
Create a markdown file in the _posts subdirectory
Write the blog post
Run jekyll serve -w
Open the page in Chrome (by default, http://127.0.0.1:4000)
Return to the markdown file and fix as needed
Refresh Chrome. Jekyll should have rebuilt the page.
If Jekyll failed to rebuild the page, kill the process and re-run it.
Once I'm happy with the post, push back to GitHub and do a quick once-over to make sure it matches my local instance.

Finally, the Rouge pigmenter now supports PowerShell, so there's no real reason to continue using Pygments. This means that my Jekyll instance no longer requires Python - it's all Ruby-based. This doesn't really affect me now, since I already have my dev environment working nicely, but I always like to see fewer moving parts where possible.
A Note on Comments
Migrating to this theme did mean re-creating most of the content of the blog, and I've taken advantage of the opportunity to re-organize a little as well. Disqus does seem to have preserved most of the comments on the blog, but if there's anything missing from the comments section, I do apologize. My hope is that I shouldn't need to do this in-depth of a site rebuild again for the foreseeable future.
Looking to the Future!
It may take a bit for the proverbial dust to settle. I love tweaking things to get them juuuust right, so I may continue playing with page and navigation styles for a while. Overall, though, I'm very happy to have brought this back to life, and I feel much better about the ease of writing more in the future.
See you all again next time!
~replica